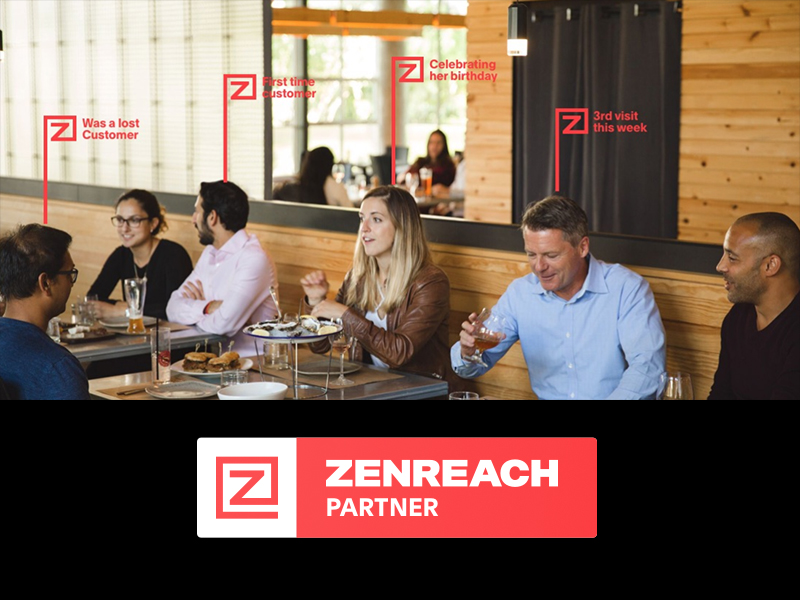 Use your WiFi to transform the way you reach customers.
We are thrilled to announce our recent partnership with Silicon Valley-based wifi marketing company, Zenreach. We elected to partner with Zenreach due to their commitment to supporting small business and bridging the gap between the online and offline world. Zenreach leverages in-store wifi connection to demonstrate how your online marketing efforts translate into offline foot traffic.


Use your Wifi to engage with your customers and generate more revenue.
Rather than spending millions of dollars on developing an in-house solution, we can offer this cutting-edge wifi solution in partnership with Zenreach. If you arecurrently offering Guest WiFi, it is a sunk cost. By implementing Zenreach, we'll be turning that sunk cost into a way to engage with their customers and generate revenue.

Through data collection, timely and proper communication and reputation management we are able to increase your return on investment (ROI).



How does it work?
By turning your WiFi into a contact collecting powerhouse, you'll know your customers' email, demographic info, and visit behaviour. Moreover, it all happens automatically through your new branded wifi login portal. You will get to know your customers better by using your wifi to transform the way you reach them. You'll engage in better communication by striking up relevant conversations. The days of blind email blasts are over.
With Zenreach's Smart Messages, you build a real connection with your customers, sending messages based on who they are. First time customer? Welcome them and invite them back. Haven't seen a customer for a while? Send them a particular reason to come back.
This, in turn, will lead to a better online reputation for you and your business. You will turn customer experiences into positive reviews. Zenreach lets you manage your reputation in real time. You can point happy customers to popular review sites while interacting personally with anyone who may have had a bad experience. We help you contact them before they post a negative review. Now that's reputation management!
Built for brick and mortar retail establishments in mind you'll watch ROI walk right through your door. That is real customers, not just clicks. You can measure the results of your marketing and reputation-building efforts with your Walk-Through Rate™ — the number of people who actually walk through your door. That's real ROI.
Interested? Ready to get started?
You may already have compatible wifi access points which means setup can take as little as 10 minutes! Contact us, and we'll conduct a free site survey to determine your readiness for the platform. Businesses using Zenreach grow 65% faster compared to those using traditional marketing methods. So let's get started growing yours.